Coinbase is one of the oldest and largest cryptocurrency exchanges around. On Coinbase, you'll regularly find 'learn & earn' opportunities, called 'Coinbase Earn'.
A Coinbase Earn course consists of short animated lessons about a cryptocurrency. You'll get one quiz question for each lesson in the course. If you pick the correct answer to the quiz questions, you'll be rewarded, and get a few dollars worth of the same cryptocurrency you have just learned about!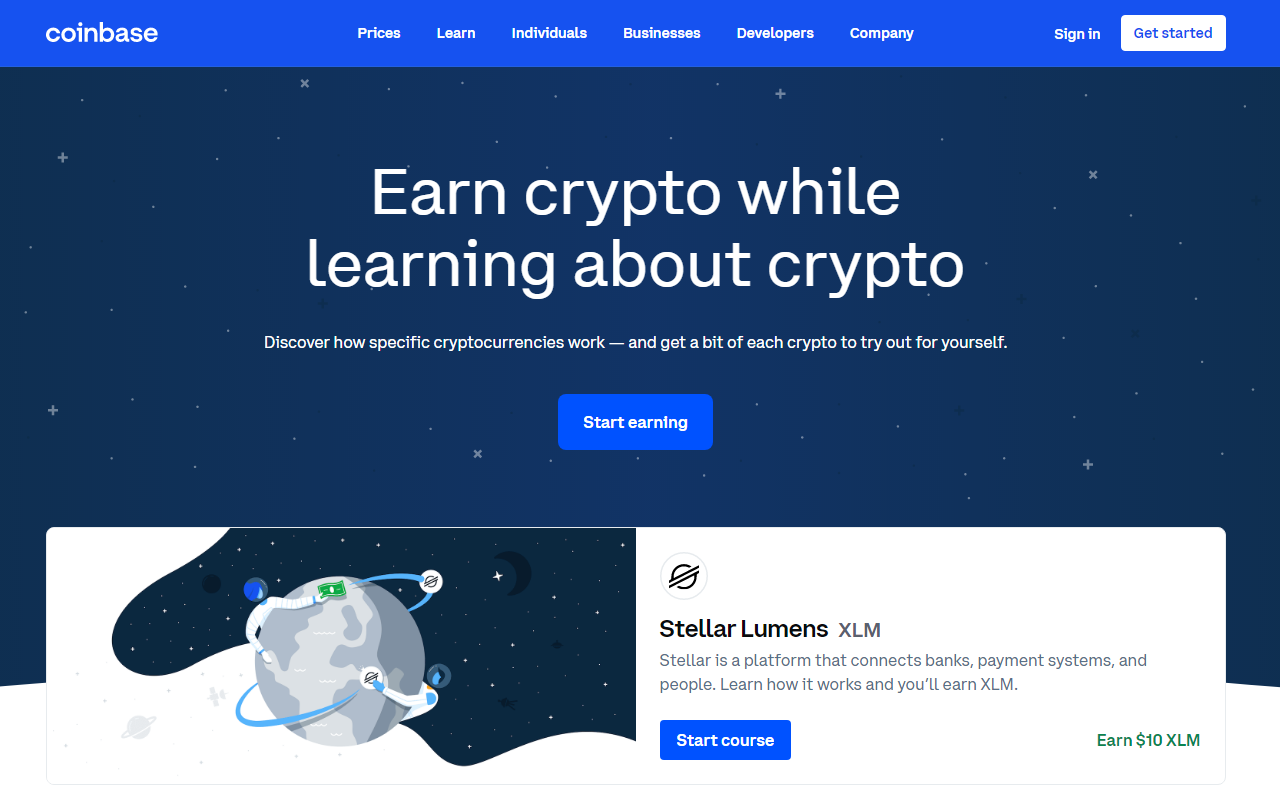 Currently, there are two Coinbase Earn courses available to every new user. The first is a course about

 Stellar Lumens (XLM) for $10 in XLM, and the second is about

 Amp (AMP) for $3 in AMP.
New Coinbase Earn courses are added over time, so your free crypto earnings will add up over time as well! Note that apart from the XLM and AMP course, not every Coinbase Earn course will always be available to every user at the same time.
Tip: don't have a Coinbase account yet? Click here to sign up with our referral link, and get a free bonus!
Coinbase Earn Stellar (XLM) quiz questions and answers!
You can start this Coinbase Earn course by going here directly. This course consists of 5 lessons and quiz questions. Every correct answer will earn you $2 worth of XLM!
To make sure you'll earn the full $10 in XLM, here are all quiz questions and answers:
Question 1: What is Stellar?
Answer: A decentralized protocol that unites the world's financial infrastructure
Question 2: What are Stellar Lumens (XLM) used for?
Answer: Facilitating low-cost, universal payments
Question 3: Why is Stellar good for sending remittances?
Answer: Transactions are fast, inexpensive, and global
Question 4: Why would banks and businesses use Stellar?
Answer: To issue, exchange, and transfer tokens quickly and efficiently
Question 5: How does Stellar's Consensus Protocol work?
Answer: It relies on the cooperation of trusted nodes to confirm transactions
That's all! The $10 worth of Stellar should automatically be credited to your Coinbase wallet.