Aqru is a cryptocurrency lending platform and exchange. At Aqru, you can earn interest on your cryptocurrencies for lending them out.
As a new user, you can currently get a total of $110 in USDC as a sign-up bonus for joining Aqru with a referral link (click here to use ours).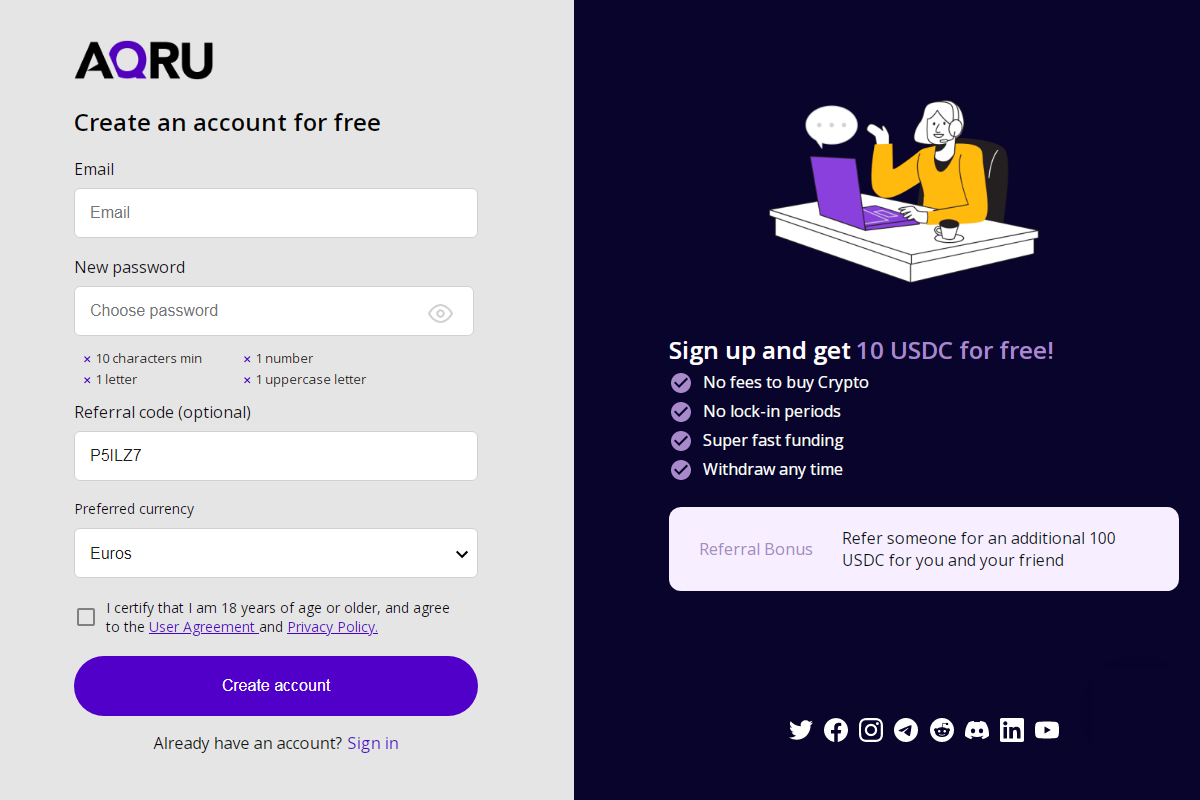 Steps to get your Aqru sign-up bonus!
Here are the full steps you need to follow to make sure you'll get your 110 USDC sign-up bonus:
Sign up with a referral link. Click here to use our referral link and automatically apply our Aqru referral code: P5ILZ7
Complete your registration and verify your identity.
You'll instantly receive $10 in USDC to your account!
To get the rest of the bonus, you'll need to deposit and invest $2000+ worth of any crypto using any of their 'Earn' products within the first 60 days of verifying your account.
Keep your crypto invested for 6 months. You'll earn daily interest on your invested crypto.
Once the 6 months are up, Aqru will send you an email to notify you you've received your $100 in USDC sign-up bonus.
That's it! Your account will automatically be credited $100 in

 USD Coin (USDC).
About Aqru.io
Aqru is a relatively new cryptocurrency lending platforms, that allows you to earn interest on your cryptocurrencies, and generates yield from lending and DeFi lending. They're based in the Bulgaria, and have been in business since 2021.
They allow you to earn interest on stablecoins,

 Bitcoin (BTC), and

 Ethereum (ETH).
If you want to compare the interest rates provided by Aqru with other crypto lending platforms, check out our crypto interest rate comparison table.