Bitpanda.com is an exchange for trading cryptocurrencies, (fractional) stocks, and metals. In total, they've got over 1000 assets to invest in.
They're currently running a referral promotion that allows you to get a free €10 credit to your account. You'll have to sign up with a referral link, and buy at least €25 of crypto!
Apart from that, you can earn another €5 in free crypto from completing a 'Learn & earn' quiz. You can read all about that on our page about the Bitpanda beginners' quiz.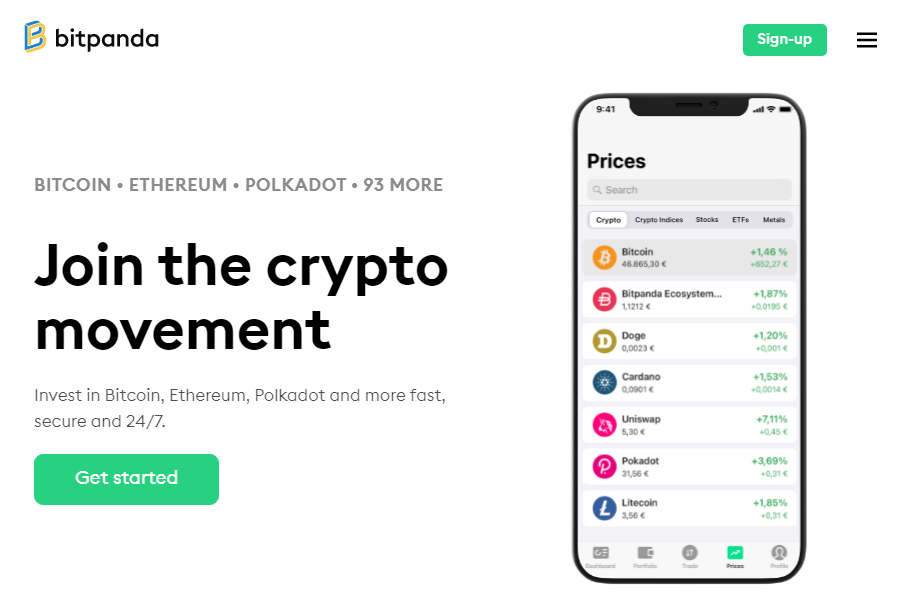 Steps to get your Bitpanda sign-up bonus!
Here are the exact steps to get your Bitpanda sign-up bonus:
Sign up to Bitpanda using your friends referral link

Verify your account by completing the KYC procedure

Deposit €25+ in fiat/cash to your account. You can do a card deposit (instantly available), or a (SEPA) bank transfer. SEPA bank transfers kan take a few hours to clear.

Once your fiat deposit is in your account, buy €25+ of any crypto.
Done! Your account will instantly be credited another €10 as a bonus!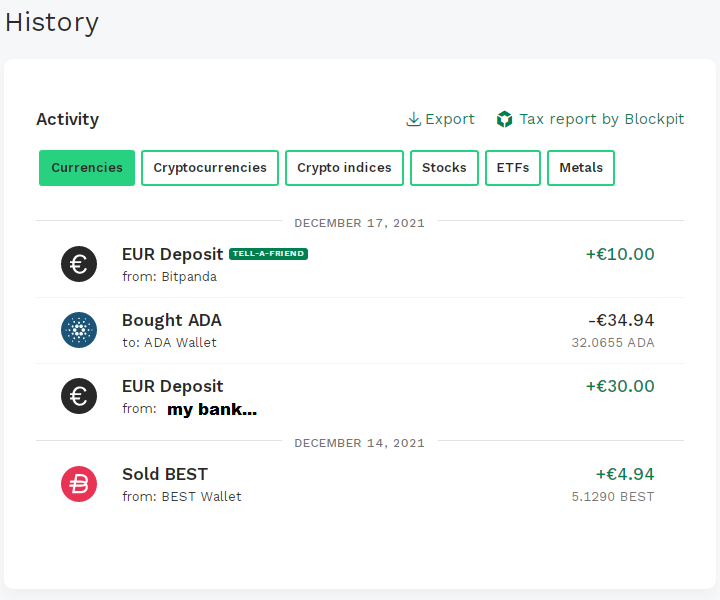 You can earn another free €5 in BEST (Bitpanda Ecosystem Token) by completing the Bitpanda Beginners' quiz. More info and all quiz answers here. You can also get this free crypto without doing the deposit!
About Bitpanda
Bitpanda is based in Austria, and has been around since 2014. It's available to users in most European countries, and the UK.
Bitpanda allows you to invest in cryptocurrencies, cryptocurrency indices, (fractional) stocks and ETF's, and precious metals, all on one exchange!
Apart from that, they offer the Bitpanda Card. This Visa card allows you to pay with any asset (or fiat currency) you hold in your Bitpanda account. You can set whatever asset you own as your payment asset in your Bitpanda account.
You'll get a

 Bitcoin (BTC) cashback for every transaction you make with your Bitpanda card. The more BEST you hold, the higher your cashback! Currently, the highest cashback you can get is 2.00%.
You can also earn interest on Bitpanda.com from staking. You can check out all current rates on the Bitpanda interest rates page. If you want to compare Bitpanda's rates to those offered by others, check out our cryptocurrency interest rate comparison table.