CoinSmart is a cryptocurrency exchange, hat also allows you to stake and lend some coins to earn interest.
As a new user, you can currently get a $15 CAD sign-up bonus for joining CoinSmart with a promo code.
Click this referral link to automatically apply our CoinSmart Promo Code: Ref-VWO3de.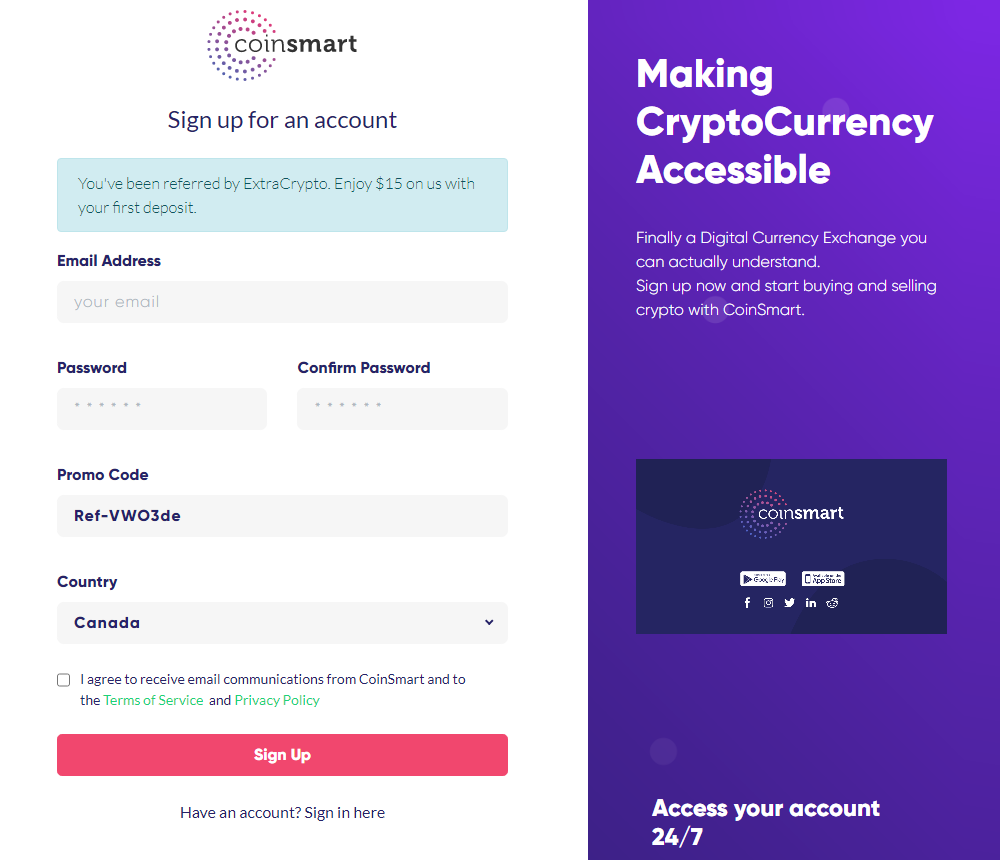 Steps to get your CoinSmart sign-up bonus!
Here are the full steps you need to follow to make sure you'll get your $15 CAD sign-up bonus:
Sign up with our referral link, and make sure the CoinSmart Promo code: Ref-VWO3de is added.
Complete the identity verification to finish setting up your account.
Deposit $100+ CAD worth fiat. Deposits made in USD or Euro count.
All of the steps have to be completed within 30 days of signing up.
That's all! Your account will automatically be credited $15 worth of CAD within 5 business days, but usually it's instant. You can use the CAD to buy extra crypto.
All cryptocurrencies you purchase on CoinSmart can be withdrawn to any of your other crypto addresses.
About CoinSmart.com
CoinSmart is a cryptocurrency exchange based in Toronto, Canada, and has been in business since 2018.
CoinSmart offers a easy-to-use interface, and low trading fees. Depending on the coins or currencies you use to trade, trading fees between 0.20% and 0.30%.
You currently can't stake or earn on your coins from lending on CoinSmart. If you want to earn interest on the coins you buy through CoinSmart, have a look at our crypto interest rate comparison table to find a suitable platform to earn on your coins.