Finblox is a cryptocurrency lending platform. At Finblox, you can earn interest on your cryptocurrencies for lending them out.
As a new user, you can currently get $3-$250 in USDC as a sign-up bonus for joining Finblox with a referral link. To use a referral link, you can click here to use ours.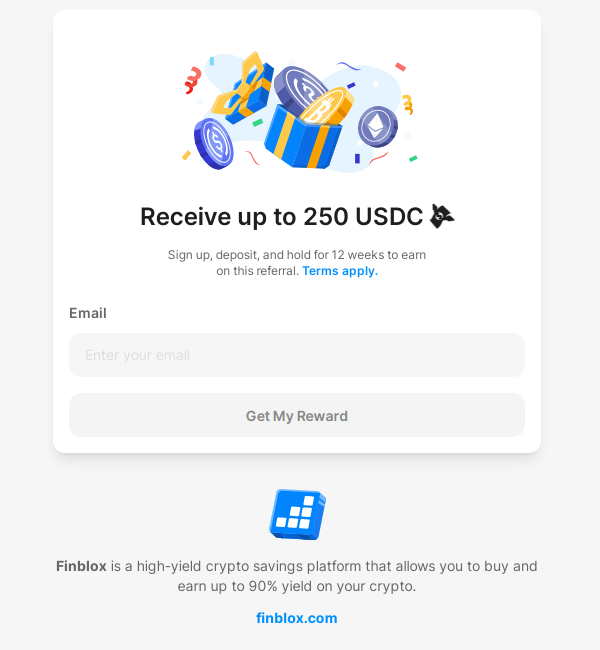 Steps to get your Finblox sign-up bonus!
Here are the full steps you need to follow to make sure you'll get your USDC sign-up bonus:
Sign up with a referral link. Click here to use our referral link, which automatically applies our Finblox referral code: 6fe31fb265
Complete the KYC procedure, which should take less than 5 minutes.
Deposit at least $100 worth of any supported cryptocurrency to Finblox within the first 7 days of signing up. The more you deposit, the higher your reward! This is the current reward structure:

$100+ deposit: 3 USDC
$1.000+ deposit: 12 USDC
$3.000+ deposit: 25 USDC
$10.000+ deposit: 40 USDC
$30.000+ deposit: 60 USDC
$50.000+ deposit: 150 USDC
$100.000+ deposit: 250 USDC

Hold your deposit in Finblox for 30 days to qualify for the reward. The 30 day holding period starts on the 8th day after signing up.
The minimum balance in the 30 days will be used to calculate your reward. For instance, if you deposit $3100 in BTC, but the value drops below $3000 in the 30 day period, you'll receive a 12 USDC reward instead of a 25 USDC reward.
That's it! Your account will automatically be credited your reward in

 USD Coin (USDC) after the 30 day holding period.
For the full terms, also see this page on Finblox.com.
About Finblox.com
Finblox is a cryptocurrency lending platform founded in 2021, and allows you to earn interest on your cryptocurrencies. They're based in Hong Kong.
They've got over 20 cryptocurrencies available to earn interest on, and generate yield for these cryptocurrencies both from lending and staking.
If you want to compare the interest rates provided by Finblox with other crypto lending platforms, check out our crypto interest rate comparison table.