Luno.com is a cryptocurrency exchange, where you can buy Bitcoin, Ethereum, Litecoin, XRP, and more.
As a new user, you can currently get €15 in Bitcoin as a sign-up bonus for joining Luno with a referral code. Click here to use referral link, which automatically applies our Luno referral code: 4WNDBS.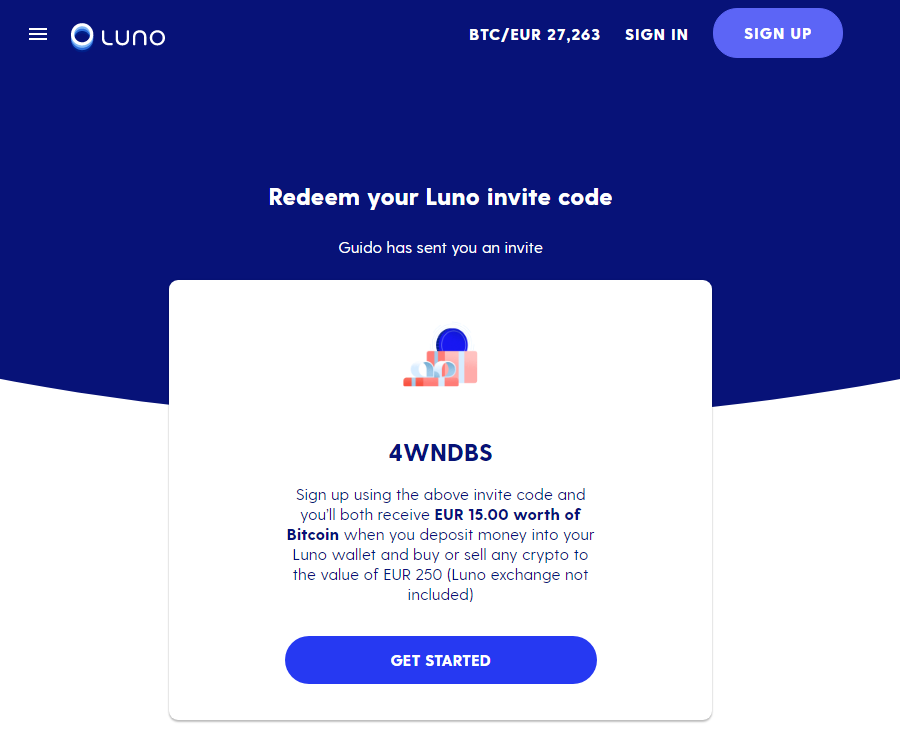 Steps to get your Luno sign-up bonus!
Here are the full steps you need to follow to make sure you'll get your Bitcoin sign-up bonus:
Sign up with a referral link. Click here to use our referral link and automatically apply our Luno referral code: 4WNDBS
Complete your account setup, and verify your identity.
Deposit €250+ to your Luno wallet, and use it to buy any cryptocurrency to qualify for the bonus.
That's it! Your account will automatically be credited €15 in

 Bitcoin (BTC), as valued on the date of the bonus payout.
About Luno.com
Luno is a cryptocurrency, based in London, United Kingdom. Luno was founded in 2013.
At Luno, you can buy, sell, and trade 8 different cryptocurrencies.
However, it's currently not possible to earn interest on your cryptocurrencies on Luno. If you want to earn interest on your crypto from lending or staking, check out the available options in our crypto interest rate comparison table.