Nexo.io is a cryptocurrency exchange and lending platform. At Nexo, you can earn interest on your cryptocurrencies for lending them out, or put up your cryptocurrency as collateral to get a loan.
As a new user, you can get $25 in Bitcoin for free as a sign-up bonus for joining Nexo with a referral link (click here to use ours).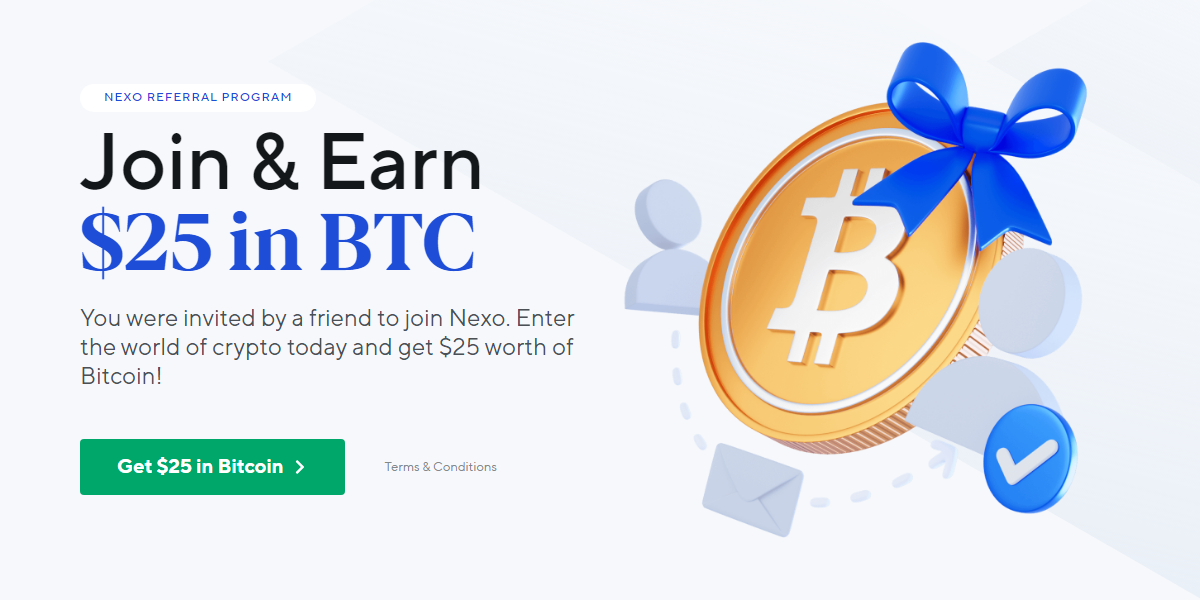 Steps to get your Nexo.io sign-up bonus!
Here are the full steps you need to follow to make sure you'll get your sign-up bonus:
Make sure you sign up with our referral link: https://nexo.io/ref/llkew7q4v0
Complete your account by finishing the KYC procedure
Depositing $100+ worth of crypto to Nexo.io
Make sure your crypto balance at Nexo stays over $100 for 30 days
After the 30 days, your account will be credited $25 worth of Bitcoin!
The amount of

 Bitcoin (BTC) you'll get is based on value of the day you signed up. So, it might be worth either more or less on the day you'll get paid out.
About Nexo.io
Nexo is a popular cryptocurrency lending platform, which allows you to earn interest on your cryptocurrencies. They're based in London, UK, and have been in business since 2017.
They've got over 30 cryptocurrencies available to earn interest on, and have some of the highest interest rates you'll find for some coins. They'll even pay interest on three different deposited fiat currencies: EUR, GBP, and USD (click to check current rates).
Nexo also has a payment card available (the Nexo Card), that pays you up to 2% in cashback on your purchases.
If you want to compare Nexo with other crypto lending platforms, check out our crypto interest rate comparison table.