Swan Bitcoin is a simple and secure platform that encourages investing into Bitcoin by 'Dollar cost averaging', or "DCA'ing" into Bitcoin. At Swan Bitcoin, you can set up a 'Bitcoin Savings Plan' to do so, automatically.
Swan Bitcoin has an ongoing referral sign-up bonus, which allows every new user who signs up to get the first $10 in Bitcoin for free!

You'll only get the $10 if you sign up with a referral link. Ours is: Swanbitcoin.com/extra-crypto.
Steps to get your sign-up bonus!
Here are the exact steps to get the $10 in free Bitcoin by signing up for Swan Bitcoin:
Click our referral link, enter your e-mail address, and click 'Get Started'. You'll get an e-mail with further instructions to create your account.
Pass the KYC procedure, which includes verifying your identity and submitting proof-of-address.
Once you pass KYC (which is usually the same day, but can take up to five business days), you'll get an e-mail, titled 'Your 

Swan

 

Bitcoin

account is active!'. Click the link in the email and sign in to your account.
Your account is already credited with $10, which you can use to buy Bitcoin!
That's all! Once you've bought Bitcoin with your account credit, you can withdraw it to any other wallet or exchange. Swan doesn't charge any withdrawal fees!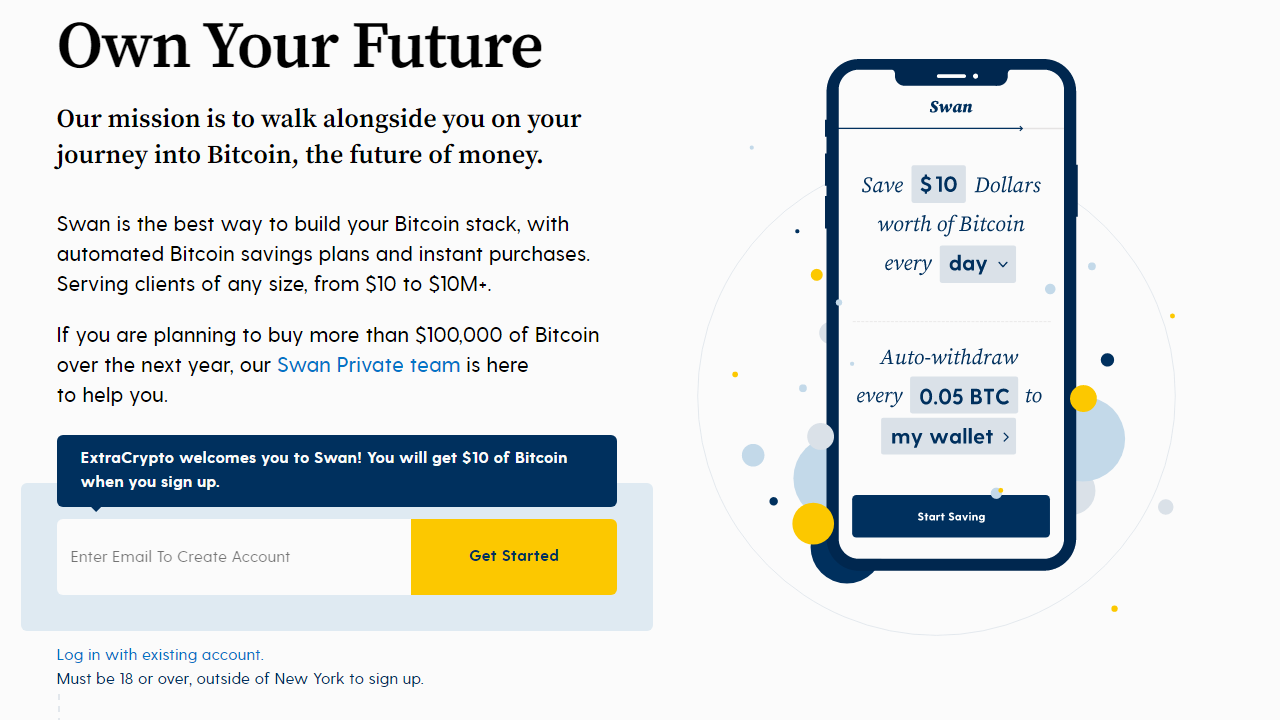 Withdrawals do take some time to process though, as they've got all BTC stored in cold storage by default. Which is actually very secure. Read more about that here.
The first time, it might take a couple of days for the withdrawal to process.
Also want a free Bitcoin book? Use this link instead!
If you also want a free Bitcoin book, sign up with this link instead.
Apart from the $10, you'll also receive the e-book "Inventing Bitcoin: The Technology Behind The First Truly Scarce and Decentralized Money Explained" by Yan Pritzker.
This is a 108-page book explaining the Bitcoin technology, and currently sells for $6.95 on Kindle. So it's another nice extra if you're interested in learning more about

 Bitcoin (BTC).
About Swan Bitcoin
Swan Bitcoin was founded in June 2019, and is based in the United States. It's available to users worldwide, with the exception of a few US states. You can find the list of available states here.
With Swan Bitcoin, you can buy Bitcoin, create an automatic Bitcoin savings plan, and buy Bitcoin gift-cards.
You can't currently earn interest on Bitcoin at Swan. If you're interested in that, go here to compare Bitcoin interest accounts.