Coinbase is a cryptocurrency exchange, that also allows you to earn yield on a certain coins.
As a new user, you can currently get $10 in Bitcoin as a sign-up bonus for joining Coinbase with a referral link: click here to use ours.
As long as you sign up on that page, you'll qualify for the sign-up bonus. There is no Coinbase referral code that you have to enter anywhere.
Apart from the sign-up bonus, you can earn more free crypto from Coinbase by doing their 'Learn & Earn quizzes'. Go here if you want more information on learn & earn quizzes.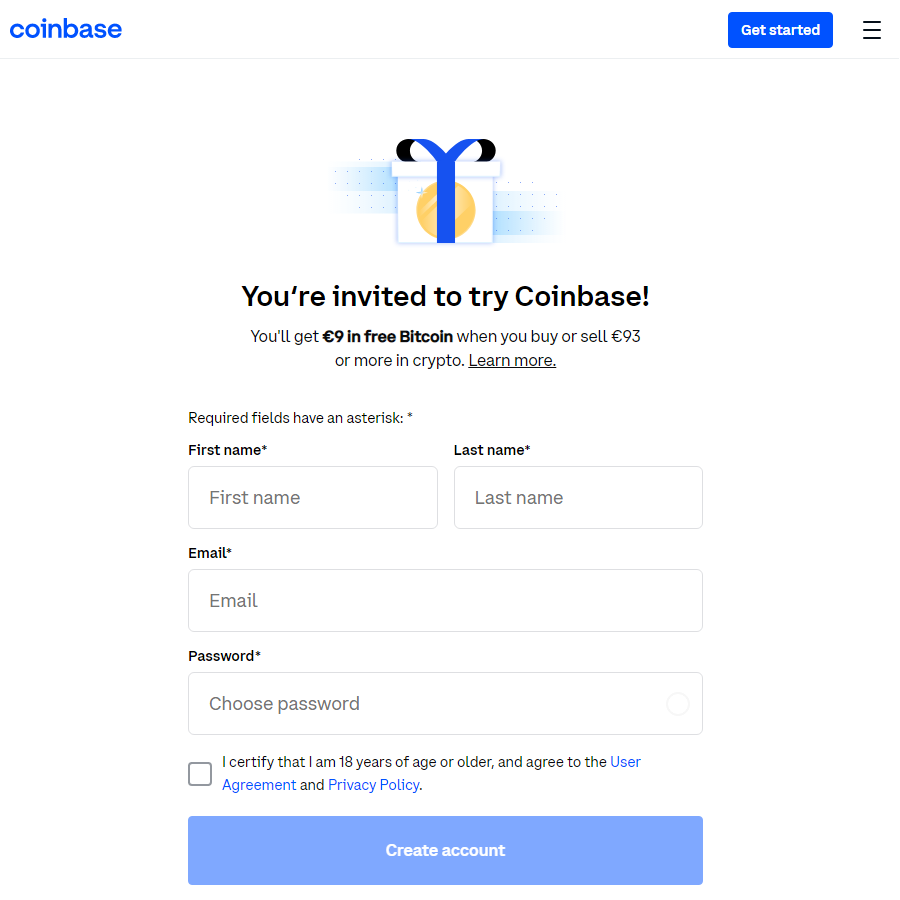 Steps to get your Coinbase sign-up bonus!
Here are the full steps you need to follow to make sure you'll get your Bitcoin sign-up bonus:
Sign up to Coinbase with a referral link. Click here to use our referral link.
Complete your account setup, and verify your identity (KYC).
Either buy or sell $100 in cryptocurrency on Coinbase within the first 180 days of creating your account to qualify for the sign-up bonus.
The bonus won't be issued instantly. You'll have to wait for 2-4 days for the bonus to be issued.
That's all! Once the wait is up, your account will automatically be credited $10 in

 Bitcoin (BTC), as valued on the date of the bonus payout.
About Coinbase.com
Coinbase is one of the oldest and largest cryptocurrency exchanges, and allows you to earn interest on some your cryptocurrencies. Coinbase was founded in 2012, and is based in the United States.
Coinbase also has a credit card available (the Coinbase Visa Debit Card), that pays you up to 4% in cashback on your purchases. To compare the Coinbase card with other crypto rewards cards, use our crypto card comparison table.
If you want to compare the interest rates provided by Coinbase with other crypto platforms, check out our crypto interest rate comparison table.