There's a promotion ongoing on

 Bitstamp.net.
To incentivize users from the United States to stake Ethereum and Algorand with them, they're offering $10 to $50 in either ETH or ALGO.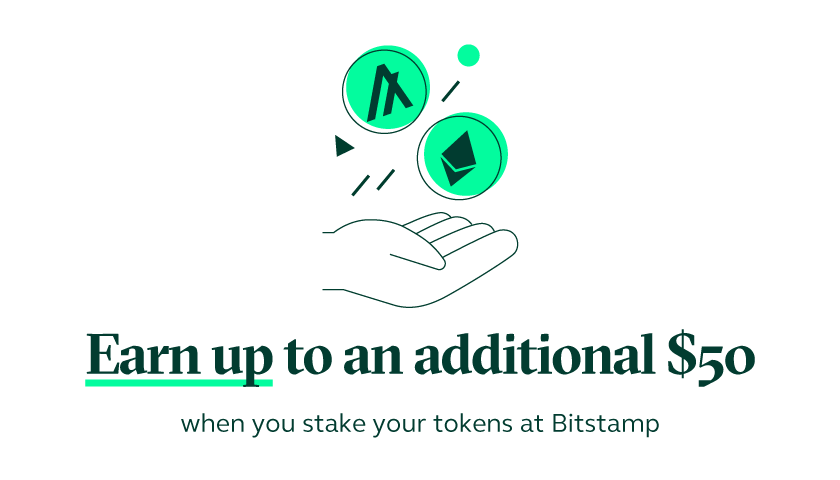 Bitstamp staking promo: steps to earn $10 – $50 in ETH or ALGO
If you want to partake in the promotion, here's how to get to get your $10 or $50 in ETH or ALGO:
Sign in to your Bitstamp account, and opt in to this promo. If you don't have a Bitstamp account yet, click here to sign up and complete your account set-up.
Deposit or directly buy either  Ethereum (ETH) or  Algorand (ALGO) on Bitstamp, and stake your coins before July 2nd, 2022.
The reward depends on the amount of ETH or ALGO staked:
– Stake 0.1+ ETH: $10 worth of ETH reward
– Stake 0.2+ ETH: $50 in ETH reward
– Stake $100+ worth of ALGO: $10 in ALGO reward
– Stake $500+ worth of ALGO: $50 in ALGO reward
Stake your ETH or ALGO for 30+ days to be eligible for the reward.
The distribution of the rewards starts on August 16th, 2022. It can take up to 3 days for all of the rewards to be paid out.
That's it! You've earned $10 or $50 in free Ethereum or Algorand!
Note that you can only earn rewards for either Ethereum or Algorand, not for both.
If you decide to stake both, you'll earn the reward in the coin with the greater balance.
On top of the promo rewards, you'll also earn the staking rewards. You can find the current Bitstamp staking rewards here.
If you're looking for more information on this promo, you can find the full details and terms here on Bitstamp.net.