If you're familiar with stablecoins, you might've noticed most of them are stable to the US Dollar. Even if your home country uses the Euro, you can still use USD stablecoins just fine.
However, you'll experience so-called currency-risk: the risk of your interest-earning USD stablecoins losing value against the Euro.
Also, you might just prefer using a stablecoin pegged to the same currency you use day-to-day, so you'll have a better understanding of how much you're actually earning.
But which Euro stablecoins are out there? And what interest rates can you expect to earn on them? I'll walk you through the four main available options.
Celo Euro: crypto-backed Euro stablecoin: up to 25% APY!
The Celo Euro (cEUR) is an asset built on Celo, but also ERC-20 compatible. It's pegged to the Euro 1:1, and collateralised by multiple cryptocurrencies. Mostly Celo, Bitcoin, and Ethereum. You can have a look at the current reserve holdings backing the Celo stablecoins at Celoreserve.org.
There are two main ways to earn interest on the Celo Euro, or cEUR as of now.
The first way, which also pays you the highest interest rate, is by using the Valora app. This is a Celo wallet and payment app, which you can download at Valoraapp.com. To incentivize people to use this Celo wallet, you can temporarily earn a 25% APY on your Celo Euro! This earning program is called 'Supercharge'.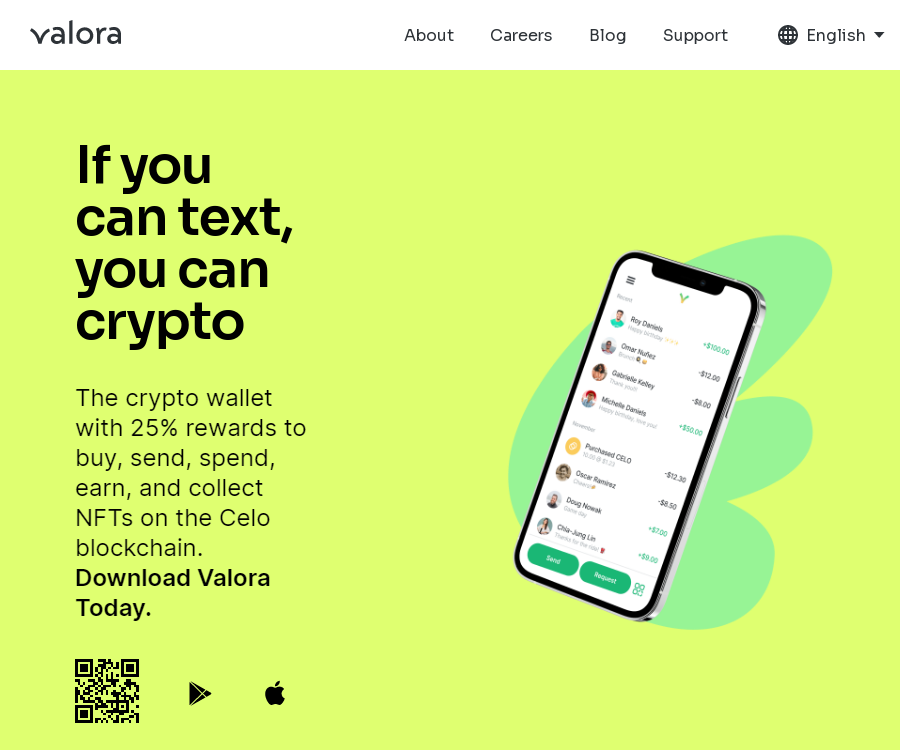 You can purchase Celo Euro directly from the Valora app. Note that you'll have to manually claim the rewards from the app. Rewards will show up in the app weekly, and you'll have to claim them within 28 days, before they disappear.
The main drawback of Valora Supercharge is that it's limited to a maximum of 1000 cEUR. If your cEUR balance is over 1000, you'll only earn the 25% interest on the first 1000 cEUR, and nothing on any balance above that.
The second way to earn interest on Celo Euro, is by using the a Blockchain.com Rewards Account. As of April 2022, Blockchain.com offers an interest rate of 14% APY on your entire Celo Euro balance. You could also just use Blockchain.com to buy Celo Euro, and then send it to the Valora app over the Celo Blockchain.
If you want to see the latest interest rates on Celo Euro, go to the

 Celo Euro (CEUR) interest rates page.
Stasis Euro (EURS): earn up to 12% APR
The Stasis Euro is an ERC-20 token, issued by Stasis. As of writing, the Stasis Euro is the largest Euro stablecoin in market capitalization on Coinmarketcap.com.
According to Stasis, every 1 EURS is backed 1:1 by Euro's held in their reserve accounts. You can easily exchange Euro's to EURS, and EURS to Euro's, using Stasis's own wallet. You can also sell back the EURS to Stasis directly to redeem them, and get the money deposited into your bank account.
I was able to find two crypto lending platforms that currently offer interest on the Stasis Euro: YouHodler and Stablehouse.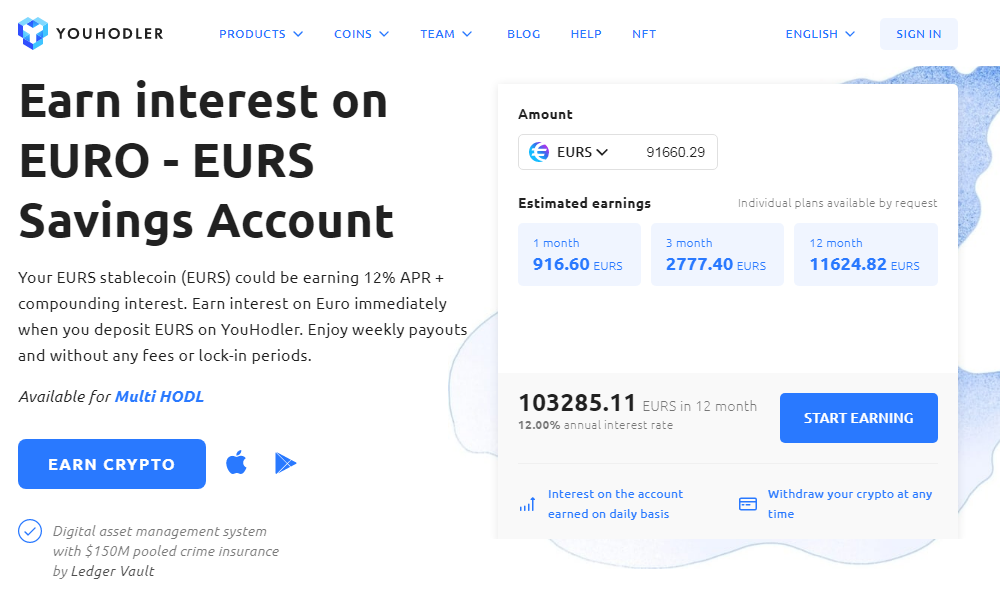 As of April 2022, YouHodler.com offers the best rate: a 12% APR, paid weekly. The best way to get EURS on YouHodler, is by making a fiat deposit to YouHodler first. After that, you can exchange the Euro's to EURS. There's a trading fee of 1.5%.
Stablehouse has slightly lower rates, and currently pays a 12% APY interest rate on EURS. You can make a deposit from your bank account to Stablehouse, and then convert your fiat to the EURS euro stablecoin.
If you're looking to join Stablehouse, be sure to check out information on using our Stablehouse referral code (here), so you can get a sign-up bonus of up to $140 in Bitcoin!
Please note that interest rates change all the time. To get the latest interest rates on EURS, check out the

 Stasis Euro (EURS) interest rate page, as the rates on that page are kept up-to-date to the best of our abilities.
Euro Tether (EURT): up to 12% APY
You might know Tether from

 Tether (USDT), which is currently the largest USD stablecoin by market cap. They also issue a Euro stablecoin: Euro Tether (EURT).
You can find more information on how Tether stablecoins are backed here. Tether's states their reserves are a mix of multiple assets: cash and cash equivalents, Corporate Bonds, Funds & Precious Metals, Secured Loans, and other investments (including cryptocurrencies). Please be warned that there is controversy about Tether's dollar reserves (read more here).
I was able to find two lending platforms offering interest on Euro Tether: Stablehouse and Swissborg.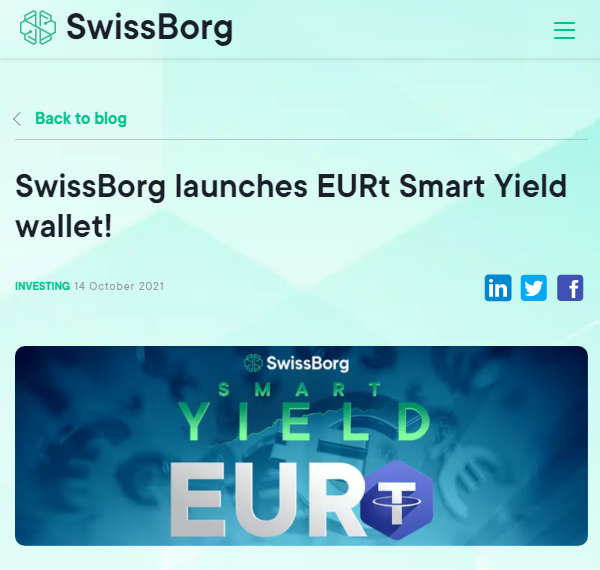 If you want to go for the highest interest rate, Stablehouse is the better option by far. Stablehouse currently offers 12% APY on EURT. To get Tether Euro on Stablehouse, the best option is to make a deposit from your bank account, and then convert your deposit to EURT.
The other lending platform offering interest on EURT is Swissborg. The rates at this Switzerland-based lending platform are significantly lower though. Their base rate is 3.75% APY, while the highest rate you can get is 7.5% APY. To get the highest rate however, you'll need to hold a lot of CHSB, Swissborg's platform token.
If you want to check out the latest available rates for EURT, check out the 

 Euro Tether (EURT) interest rate page.
Earn interest on Euro deposits or 'synthetic Euro': up to 12% APY
On some lending platforms, you don't have to hold any specific Euro stablecoin at all, as they'll allow you to earn interest on Euro deposits you make.
To be able to lend out your deposited Euro's to earn interest though, most lending platforms will use user deposits to acquire stablecoins to lend out.
Which means your Euro balance on these platforms is 'synthetic', and backed up by stablecoins. For the user, the balance will function as normal Euro's. They can be used to trade for cryptocurrencies, and can be withdrawn to your bank account.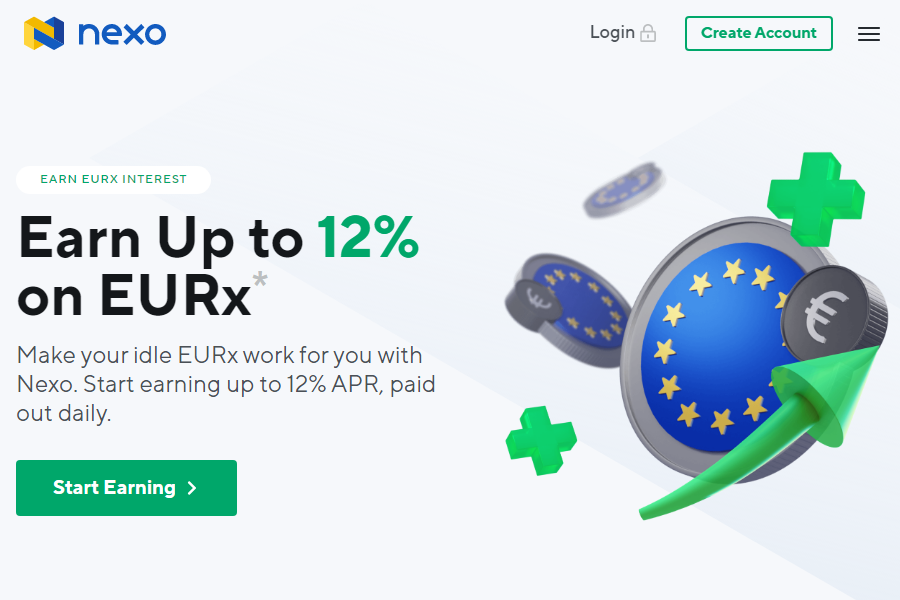 There are multiple platforms offering an interest rate on your Euro deposits:
These rates might change. For rates we keep up-to-date, visit the

 Euro (EUR) deposit interest rates page.
Conclusion
If you're looking to earn interest on Euro stablecoins, the number of options is growing. The rates you can earn on them are comparable to those you can earn on USD stablecoins. So if you prefer earning interest on the same currency you use on a day-to-day basis, there's nothing holding you back from doing so.
Do you have any questions about Euro stablecoins, or earning interest on them? Let me know by leaving a comment below!